Montana-Dakota Home » In the Community »
Service Point Audit
Montana Dakota Utilities Co.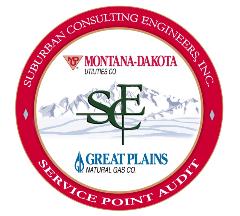 will be visiting every service point within our 5 state service area. MDU has hired Suburban Consulting Engineering, Inc. (SCE) to perform this audit.
At the same time, Southern Cross will be conducting meter inspections on behalf of MDU.
You will be able to recognize SCE employees by the personal protective equipment (high visibility vests and clothing) uniforms with the MDU logo; as well as their SCE name badges. SCE employees will be driving vehicles labeled with both MDU and SCE logos. They will be carrying handheld tablet computers as well as GPS units to complete their work for this audit.
Southern Cross employees will be recognizable by the Southern Cross logo on their uniforms and vehicles.
Always allow safe and easy access to your gas and electric meter by keeping the area in front of and around your meter clear at all times. We need at least two feet of clearance around the meter to provide visibility and access for routine work and also in case of any emergency.
This service point audit

project will be conducted throughout the MDU service territory. Weather permitting- the project will run April 1 through November 30 in the years 2018 to 2022. Below is a list of locations and estimated timeframes for the current year.
June-July:
Bismarck
Mandan
Lincoln
White Earth
Ross
Palermo
Berthold
Des Lacs
Burlington
Minot
Surrey
Aug-Sep:
Bismarck
Mandan
Lincoln
Burlington
Minot
Max
Garrison
Riverdale
Underwood
Turtle Lake
Washburn
Wilton
Sep-Oct:
Bismarck
Mandan
Lincoln
Burlington
Minot
November:
Bismarck
Mandan
Minot
Rapid City
Sheridan
The intent of the Service Point Audit is to collect data on our existing natural gas and electric distribution system. In addition to collecting data, SCE employees will also be capturing a GPS point at each service point location. The data collected will provide value as we strive to continue to provide safe and reliable service.