Service Point Audit
Montana-Dakota Utilities Co.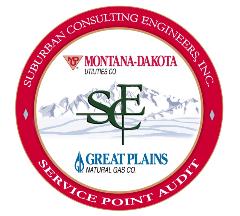 will be visiting every service point within our 5 state service area. MDU has hired Suburban Consulting Engineering, Inc. (SCE) to perform this audit.
You will be able to recognize SCE employees by the personal protective equipment (high visibility vests and clothing) uniforms with the MDU logo; as well as their SCE name badges. SCE employees will be driving vehicles labeled with both MDU and SCE logos. They will be carrying handheld tablet computers as well as GPS units to complete their work for this audit.
Always allow safe and easy access to your gas and electric meter by keeping the area in front of and around your meter clear at all times. We need at least two feet of clearance around the meter to provide visibility and access for routine work and also in case of any emergency.
This service point audit project will be conducted throughout the MDU service territory. Weather permitting, the project will run in all months of the years 2018 to 2022. Below is a list of locations and estimated timeframes for the current year.
July 2020 – October 2020:
Judson
Outlook
Plentywood
Redstone
Scobey
Whitetail
Flaxville
Rockvale
Hardin
Laurel
Park City
Pryor
Silesia
Crow Agency
Taylor
Gladstone
Billings
Poplar
Richey
Frazer
Wolf Point
Fort Peck
Glasgow
Nashua
Saint Marie
Bainville
Brockton
Dickinson
September 2020 – November 2020:
Antelope
Culbertson
Froid
Homestead
Medicine lake
Reserve
Hinsdale
Malta
The intent of the Service Point Audit is to collect data on our existing natural gas distribution system. In addition to collecting data, SCE employees will also be capturing a GPS point at each service point location. The data collected will provide value as we strive to continue to provide safe and reliable service.
Meter Survey
Suburban Consulting Engineers will be conducting a meter survey on behalf of MDU in conjunction with the above detailed Service Point Audit. This survey will include the areas listed below and will be conducted from September 28th through mid-November 2020.
September 2020 – November 2020:
Central City | Deadwood | Lead | Trojan
Quality Control Survey
Montana-Dakota Utilities is conducting its annual quality control survey of the natural gas system to ensure public safety and the proper operation of the gas lines and meters.

The project involves a technician walking alleys, streets and highways to inspect the natural gas mains and service lines maintained by Montana-Dakota. Southern Cross Corporation has been hired to perform this survey. You will be able to recognize Southern Cross employees by the personal protective equipment (high visibility vests and clothing) with the Montana-Dakota logo. They will be driving vehicles labeled with both Montana-Dakota and Southern Cross logos.
The Southern Cross employee will require access to customer property and the gas meter. They will have identification and will explain their purpose for being on private property. All people working on the project will follow CDC guidelines regarding social distancing. They will not need to enter a customer's home.
Beginning June 2020:
Bismarck, ND
Dickinson, ND
Minot, ND
Billings, MT
Wolf Point, MT
Kaycee, WY
Sheridan, WY
Rapid City, SD
Tree Trimming
Montana-Dakota Utilities has contracted Jacobsen Tree Service to trim trees in Golden Valley, Zap, Beulah, Hazen, and Center, North Dakota. Trimming is needed to reduce outages, maintain safe working clearance, and increase system reliability. Thank you for your patience as crews work through your area.