Electric Generation
Montana-Dakota Utilities serves nearly 144,000 residential, commercial and industrial electric customers in 185 communities in North Dakota, South Dakota, Montana and Wyoming. The company owns electric generation stations, approximately 3,200 miles of transmission lines and 4,900 miles of distribution lines, as well as 73 transmission substations and 296 distribution substations.
Montana-Dakota Utilities announced in February 2019 that it plans to retire two aging coal-fired stations. More information about the retirements can be found here.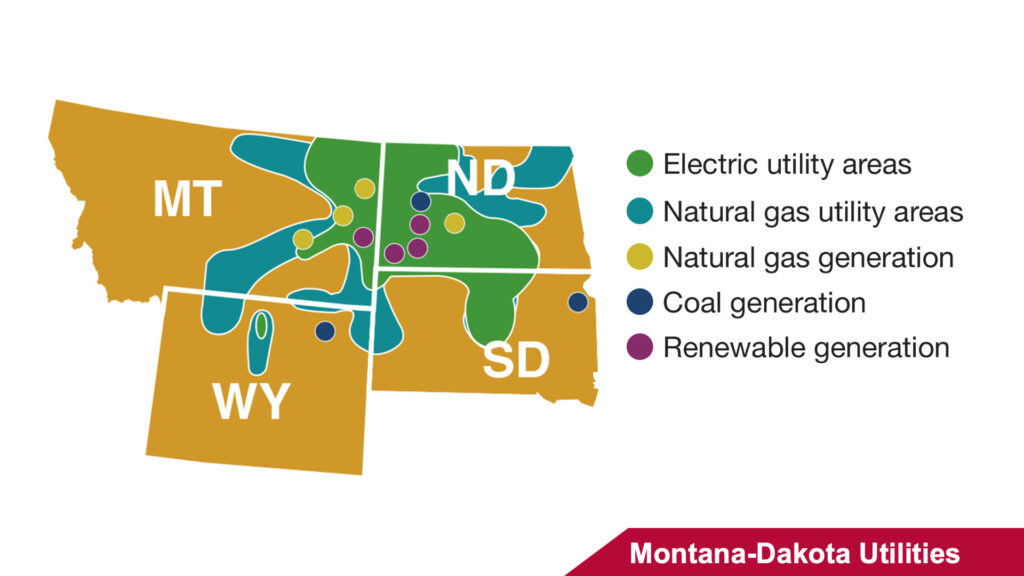 Portable Diesel Generation
Two units – each 2 MW
Regional transmission system
Montana-Dakota Utilities is a member of the Midcontinent Independent System Operator, a regional transmission organization that covers all or parts of 15 states and the Canadian province of Manitoba. MISO is responsible for operational control of the transmission systems of its members. It provides security center operations, tariff administration and operates day-ahead and real-time energy markets, ancillary services and capacity markets. As a member of MISO, Montana-Dakota's generation is sold into the MISO energy market and its energy needs are purchased from that market.
For more information in MISO: https://www.misoenergy.org/
For more information on Montana-Dakota and MISO: MDU Generation info graphic file
Integrated Resource Plan
Montana-Dakota Utilities' Integrated Resource Plan (IRP) is used to determine the best value resource plan for its customers. The IRP process includes four main areas: Load forecasting, demand-side analysis, supply-side analysis and integration and risk analysis. A summary of the 2021 IRP study results is provided in the PDF files below:
Sustainability
At Montana-Dakota Utilities we take pride in our efforts to be good stewards of the land and its resources. We live and work in the communities we serve and taking care of the environment is important to us. Montana-Dakota will operate efficiently to meet the needs of the present without compromising the ability of future generations. Our environmental goals are:
To minimize waste and maximize resources.
To be a good steward of the environment while providing high quality and reasonably priced products and services.
To comply with or surpass all applicable environmental laws, regulations and permit requirements.
For more information, see the corporation's Sustainability Report.